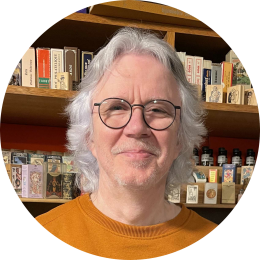 About Guido Gillabel and the museum
Guido was interested in art, spirituality and the paranormal at a very young age. In 1979 he founded the Contact Circle for Paranormal and Occult Interested People in Mechelen, which was renamed De Nieuwe Mens (the new man) a year later. This is how he came into contact with the tarot.

His first lessons (1980) were taught in a private home by Elisabeth Halsberghe. The love for the tarot had sprouted. More training followed with, among others, the writer of many esoteric books Noud van den Eerenbeemt, but especially Hans Wesseling.
By a coincidence (a speaker did not show up) Guido started giving lectures and courses.Guido wanted to show his students different angles to the tarot and therefore started collecting. Because the collection was soon bursting at the seams, Guido decided to only give courses at home.

This is how tarotHaven was created, a place where you could view different tarot decks during the courses."tarotHaven" very well reflected the essence in Dutch and English. This was more difficult for other languages. Due to the growing international interest, the name changed to Tarot Museum Belgium with the subtitle "a living museum".
In 2018-2019 the museum was enlarged and renovated into what it is today.
Guido has been teaching tarot courses for 30 years, but in recent years the museum has become his priority: a place where tarot enthusiasts meet.