Tarot musea en uitgevers
Het Tarot Museum Belgium wil in "real life" of hier via deze site een plaats zijn om informatie te delen in verband met tarotfilosofie en tarot spellen of decks. Voor nu wil ik dit laatste even belichten.
Bij de foto's die je terugvindt op deze site is niet voldoende ruimte om alle info weer te geven.
Wekelijks verschijnen er nieuwe tarot & orakelspelen, uitgegeven door bekende uitgevers of door minder bekende uitgevers of door uitgevers die zeer specifiek werken.
Ik heb enkele van deze sites voor jullie bijeengebracht: uitgevers maar ook tarotmusea.
Vindt je jouw site hier niet terug (ook indi-tarots), dan mag je altijd een berichtje sturen en dan bekijken we of jouw site ook hier bij past.
Europese uitgevers:
https://www.loscarabeo.com/en
https://www.nhfournier.es/en/products/tarot-decks/
https://www.ilmeneghello.it
Amerikaanse uitgevers:
https://www.usgamesinc.com
https://www.llewellyn.com
Russische uitgevers:
http://taromarket.ru/index.php?route=product/category&path=62
Meer specifieke uitgevers :
https://www.tarotmania.ch
https://www.tarotsheetrevival.com/en/home/
https://www.tarot-de-marseille-heritage.com/english/index.html
https://www.ciromarchetti.com
https://pablorobledotarot.webnode.page/discografia/
https://tarot-history.com/boutique/
http://www.tarot-artisanal.fr
https://www.giordanoberti.com/en/tarot-2/
https://deviantmooninc.com
https://vanessadecort.net/sunandmoon
Tarotmusea over de hele wereld
Het Tarot Museum Belgium, hoewel het reeds 20 jaar bestaat, is niet het enige tarotmuseum. Het allereerste tarotmuseum was dat van Frank Jensen in Roskilde, Denemarken. Frank was een goede vriend en we wisselden heel wat decks uit in de pre-computertijd. Toen het wat moeilijker ging met zijn gezondheid schonk Frank zijn hele verzameling aan de Roskilde Universitetbibliotek. K. Frank Jensen stierf in 2016.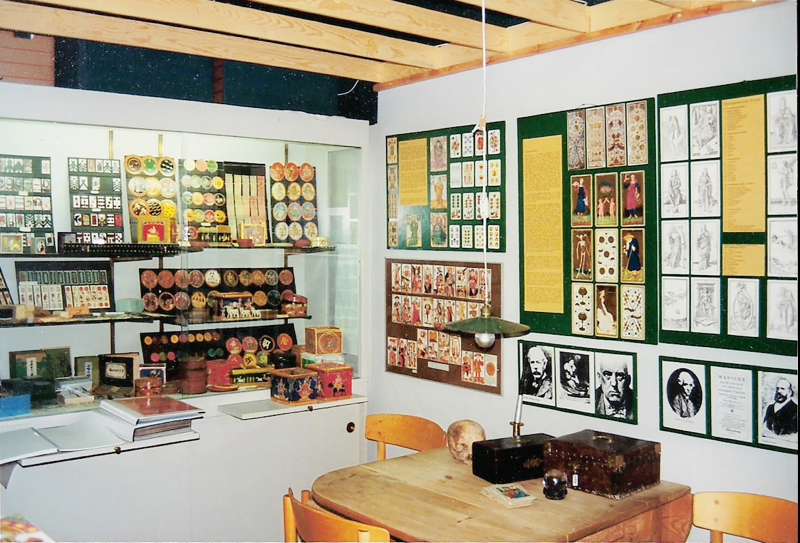 Museum of Frank Jensen, Roskilde, DK
Ricardo Salas is niet alleen eigenaar van Museo del Tarot maar bezit ook enkele winkels in Madrid en Barcelona met een enorm aanbod aan tarot en orakel decks.
http://www.museodeltarot.com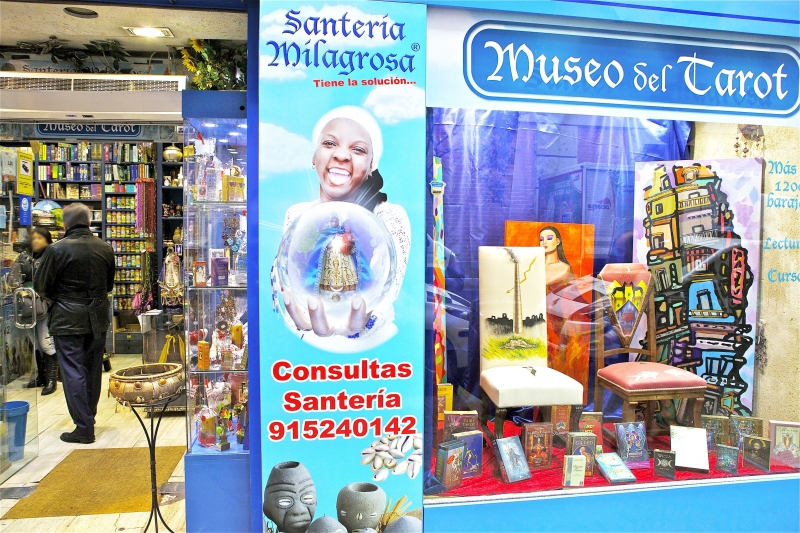 Museo del Tarot Madrid
In Italië: https://www.museodeitarocchi.com
In Vietnam: https://www.museum-tarot.org
In Japan: https://www.tokyo-tarot-museum.art
Ik besef dat dit slechts een deel is de bestaande sites en deze kunnen dus worden aangevuld. Ook en vooral indi-sites zijn welkom.